Table of Contents
What is a Shopify Coming Soon page?
Why do you need one?

Marketing your goals before the launch
Creating an email list and socials
Collect visitor feedback
Capturing more information
Deliver your message
Product guide explanations
Build excitement that your product deserves

Know this before creating a Shopify Coming Soon page.

Create Engaging Titles
Keep your Content Clean and Direct
Increase engagement through a compelling CTA
Live Chat Experience
Social Media Buttons
Email registration form
Countdown Setup
Provide customer incentives

How to Create a Shopify Coming Soon Page?

Option 1 – Use the Shopify Password Page to Create a Coming Soon Page
Option 2 – Use the Shopify Theme to Create a Coming Soon Page
Option 3 – Build your Shopify Coming Soon Page With Valar Digital

Build Your Shopify Coming Soon Page Today – ValarDigital Promotion
Conclusion
What is a Shopify Coming Soon page?
A Coming Soon page, or a pre-launch page, is a landing page on Shopify used to direct all the customers to learn more about your brand before the grand store launch.
For example, when your website link is entered on a web browser, that person will be redirected to your Coming Soon page, where you can convey your brand information and goals before launch.
Why do you need a Shopify Coming Soon page?
Having a coming soon page will not only inform your customers about your upcoming plans, but you can also build anticipation about your brand and benefit from it after launch – Which cannot be done otherwise.
Doing this will get you lots of benefits like:
✓ Marketing your goals before the launch – Building excitement will keep your customers on the hook and keep bringing them to your store.
✓ Creating an email list and socials – You can build your personal customer email list and drive all your customers to your brand's social media, where you can share special launch offers and coupon codes.
✓ Collect visitor feedback – Customers are the bread and butter of your business. Therefore, getting their valuable feedback through a Coming Soon page before launch can end up being the best decision for your business.
✓ Capturing more information – Certain brands need certain information from customers to launch their products in the market. You can capture more information about your brand or customers, for example – through a suggestion box and optimize your customer experience.
✓ Deliver your message – Brand's success is always dependent upon its universal message to its customers. Using a Shopify Coming Soon page to convey a powerful and straightforward message to your customers before launch can take you one step further.
✓ Product guide explanations – You can use the Shopify Pre-launch page to help prospective customers understand how products work and include them in your product launch journey.
✓ Build excitement your product deserves – A well-crafted Coming Soon page on Shopify, along with needed tactics, can keep the excitement among customers and get all the attention your product deserves that will ultimately convert into conversions after lunch.
The aforementioned factors will help you build your audience and get all the sales you deserve after launch.
Know this before creating a Shopify Coming Soon page!
Let's explore some key factors you should consider before creating a result-driven Shopify Coming Soon page:
Create Engaging Titles
The first thing before considering a pre-launch page to keep the anticipation on is a catchy headline that can perfectly engage with the audience.
Since a headline is the first thing your visitors will see, you must ensure it's captivating and has the ability to paint a word picture of your next big thing.
Of course, a title is the main element of your pre-launch page on Shopify, just as it is on any other eCommerce website.
The goal of putting a headline on your Coming Soon page is to represent your customer intentions and reflect them into optimal solutions as a launch.
Keep your Content Clean and Direct
Although challenging, capturing your customer's attention span is necessary. Since they only skim through your content as soon as they land on your pre-launch page.
Therefore, it's highly recommended to keep your copy brief and straightforward so it can create an impression under half a second.
However, keeping the content concise while maintaining all the critical product details intact is the proper way to create clean and direct content.
Increase engagement through a compelling CTA
A compelling Call-to-action (CTA) along with your coming soon message is important when you need visitors to perform certain actions before leaving the page.
A straightforward and easy-to-spot CTA must be in a different block from the rest of the content.
If you want to include other buttons for social media, etc., you must ensure they are smaller than the primary Call-to-action button.
Live Chat Experience
Suppose you've landed on a brand's Coming Soon page and you had a valid question about their product. What should you do?
That's where live chat comes in. You can interact with the chat box, which can be live or pre-recorded, and get all the answers to your questions.
For that, you can add a live chat bot to your Coming Soon page that will help engage with your potential customers in real time and answer all their burning questions.
Find more about Shopify Chatbots and bring your brand to life.
Adding social media buttons to your Coming Soon page can help visitors share your products with their friends and family.
Not only that, your visitors can also stay updated with your brand new store, and you can take them along with your new store journey.
When visitors share your social media with their followers, your brand's credibility increases indirectly. The brand exposure you get from adding social media buttons will directly lead to increased traffic and ultimate sales.
Email registration form
An email registration form can be integrated into your Coming Soon page that is specifically designed to collect all the customer information and add it to an email list database.
The standard goal of using a registration form is collecting subscribers and staying in touch with them for a potentially trustworthy relationship.
Let's explore some potential advice you can get from ValarDigital before creating your own email registration form and growing your audience before your product launch:
✓ Your registration form must be short and straightforward to capture all the potential subscribers instantly.
✓ Integrate an eye-catching spectrum of images and colors to draw attention to the intent.
✓ Make a compelling Cal-to-action (CTA) button.
✓ Create a focus-based Coming Soon page with fewer distractions and more focus on the page goal.
Countdown Setup
Having a countdown timer set on your Shopify Coming Soon page can be a great idea if you want to represent the urgency by emphasizing a visual queue of passing time on a front.
This will let users know that they have a specified period to act or engage with your product or for a big reveal.
Ensure the countdown timer is set to the right place where visitors can see it as soon as they land on your page.
Provide customer incentives
Regardless of your brand size, your customers will always root for a desire to win a discount or earn rewards in the form of an incentive.
Now, if you use customer incentives before launching your next big thing and announce the incentive value on the Coming Soon page, you're not only directing customers but also making them your potential sales as soon as you launch your product.
How to Create a Shopify Coming Soon Page?
When it comes to creating a Shopify Coming Soon landing page, you'll be provided with three options:
✓ Use the Shopify Password Page to Create a Coming Soon Page
✓ Use Shopify Themes to Create a Coming Soon Page
✓ Build your Shopify Coming Soon Page With Valar Digital
The process is particularly helpful for Shopify store owners who want to hide their store behind the curtain before the big launch.
The best thing about building with the help of your store's password page is you can create a Coming Soon page in a matter of minutes, and you're good to go! However, it's considered only for people with minimal requirements since there are not many customizable options you have.
On the plus side, you can use the Shopify store theme option to create a Coming Soon page. This option is particularly suitable for stores with search intent and specific goals in mind. Generally, such themes are available at a certain price; you can get them at a lower price.
That being said, let's explore the given option to create a Coming Soon page on Shopify:
Remember: The settings described in this article are based on Shopify's default theme, i.e., Dawn. Using a different theme may affect some settings and may vary from Dawn.
Option 1 – Use the Shopify Password Page to Create a Coming Soon Page
Using a Shopify password page to create a Coming Soon page is the best option you can have when you want all the basic information about your store with the help of an easy-to-use template. However, the password page is only recommended for a store launch and not a product launch.
Since we're using Shopify's default theme – Dawn, here's how a password page can be used to create an effective Coming Soon page on Shopify quickly:
Head to your Shopify Admin dashboard, select Online Store in the left side menu and select Preferences.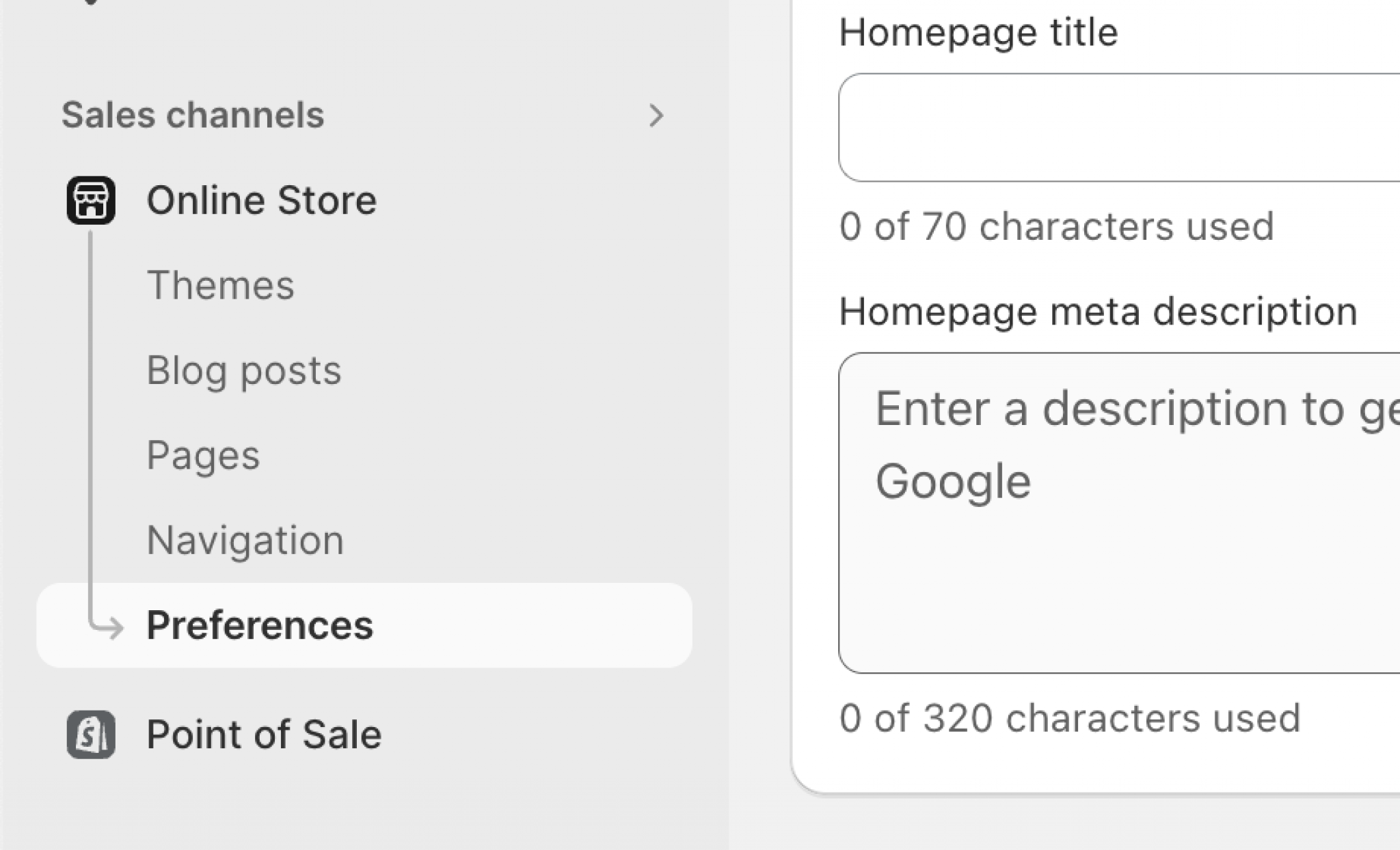 After the preferences section is revealed, scroll all the way down toward the password section and Enable Password Protection by clicking on the check box.

Under the Password protection section, you can craft a custom message for all the visitors that'll land on your Shopify store. Although that's the only feature you'll get when it comes to the password page option on Shopify.
However, here's how you can edit your password page to create a coming soon page on Shopify in your active Shopify theme:
Head back to your Shopify admin dashboard, and select Online Store from the left side menu. Click on themes to open your active theme section and click Customize.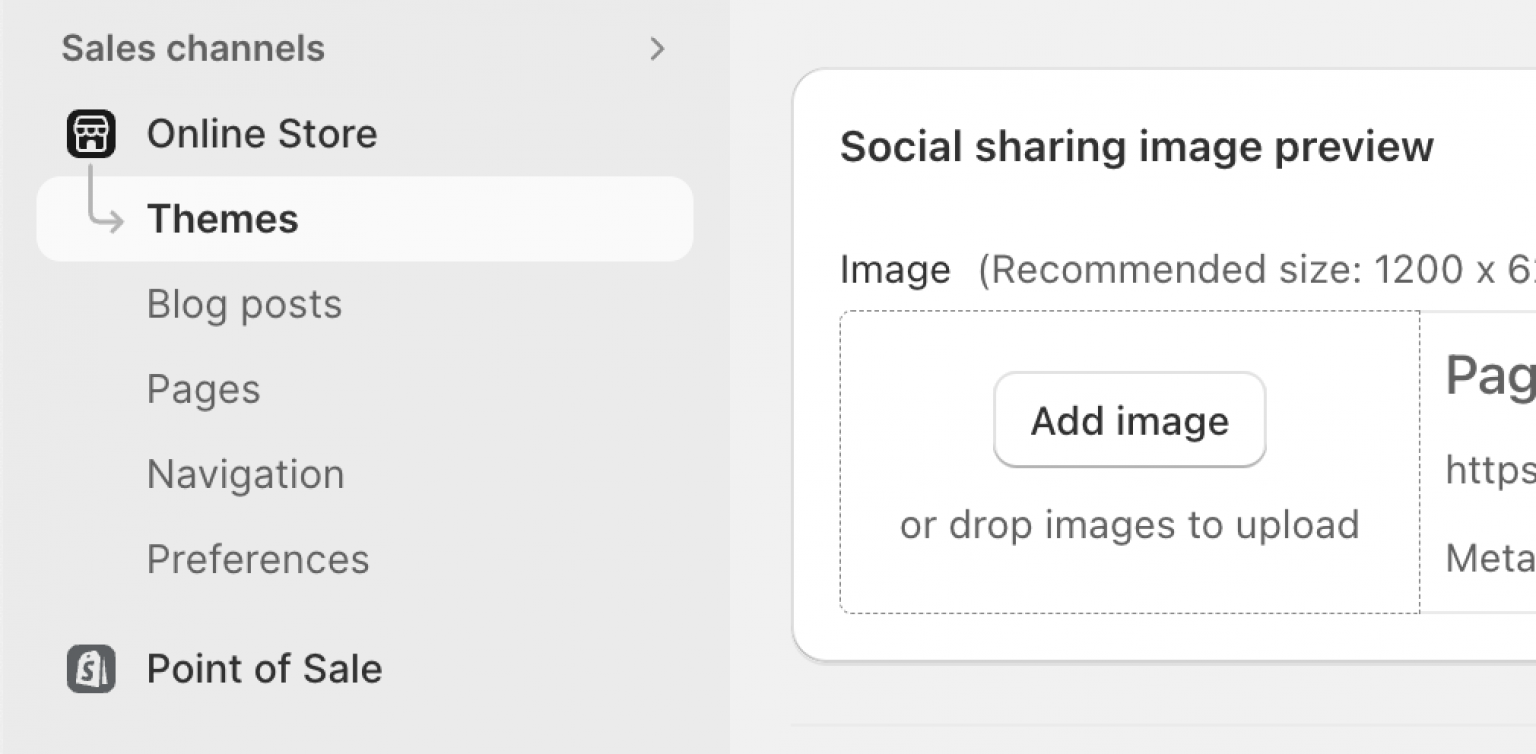 After the Shopify theme editor is revealed, click on the drop-down menu from the top of the editor.

Select Others and then the Password page to open the page editor for the password page.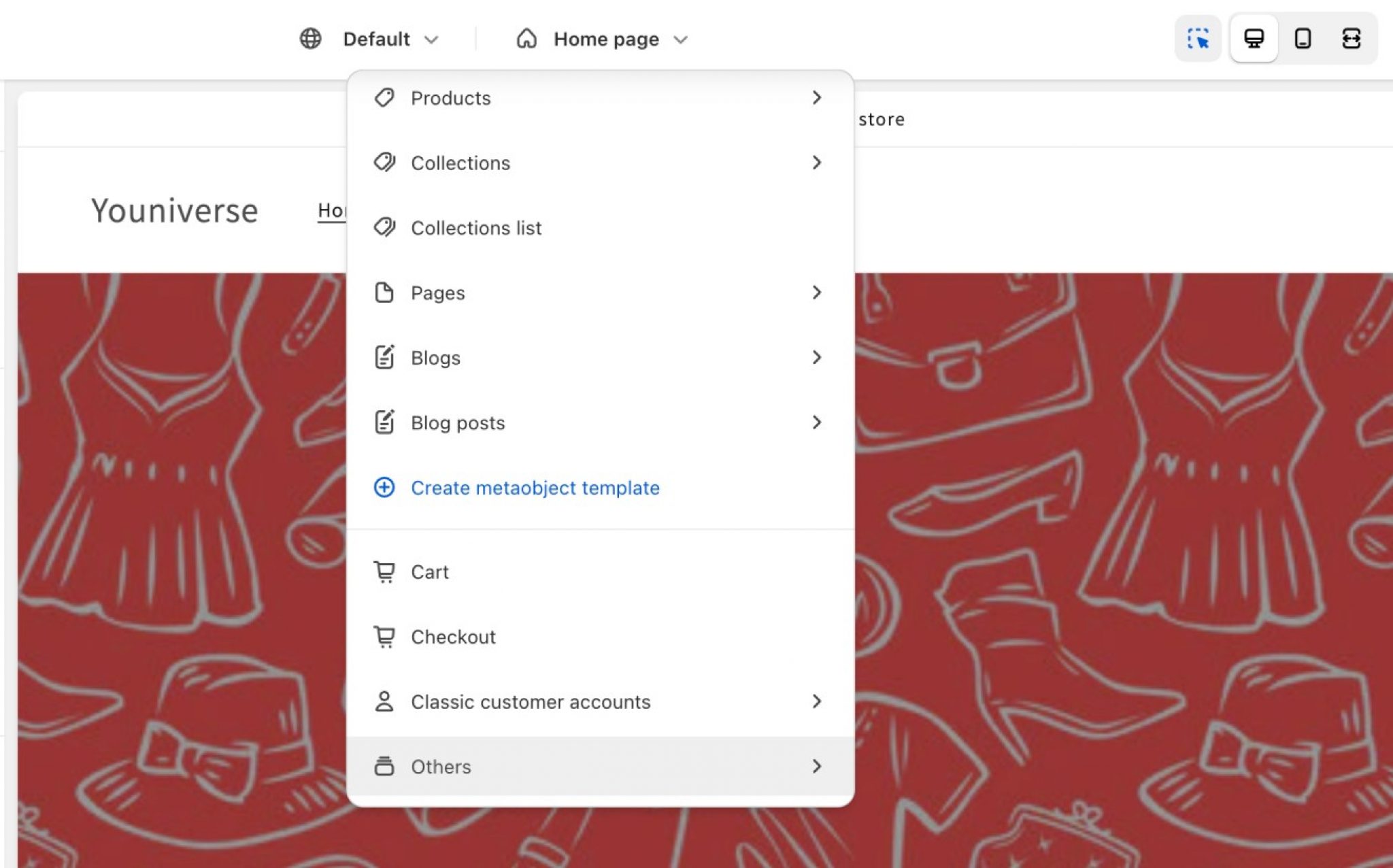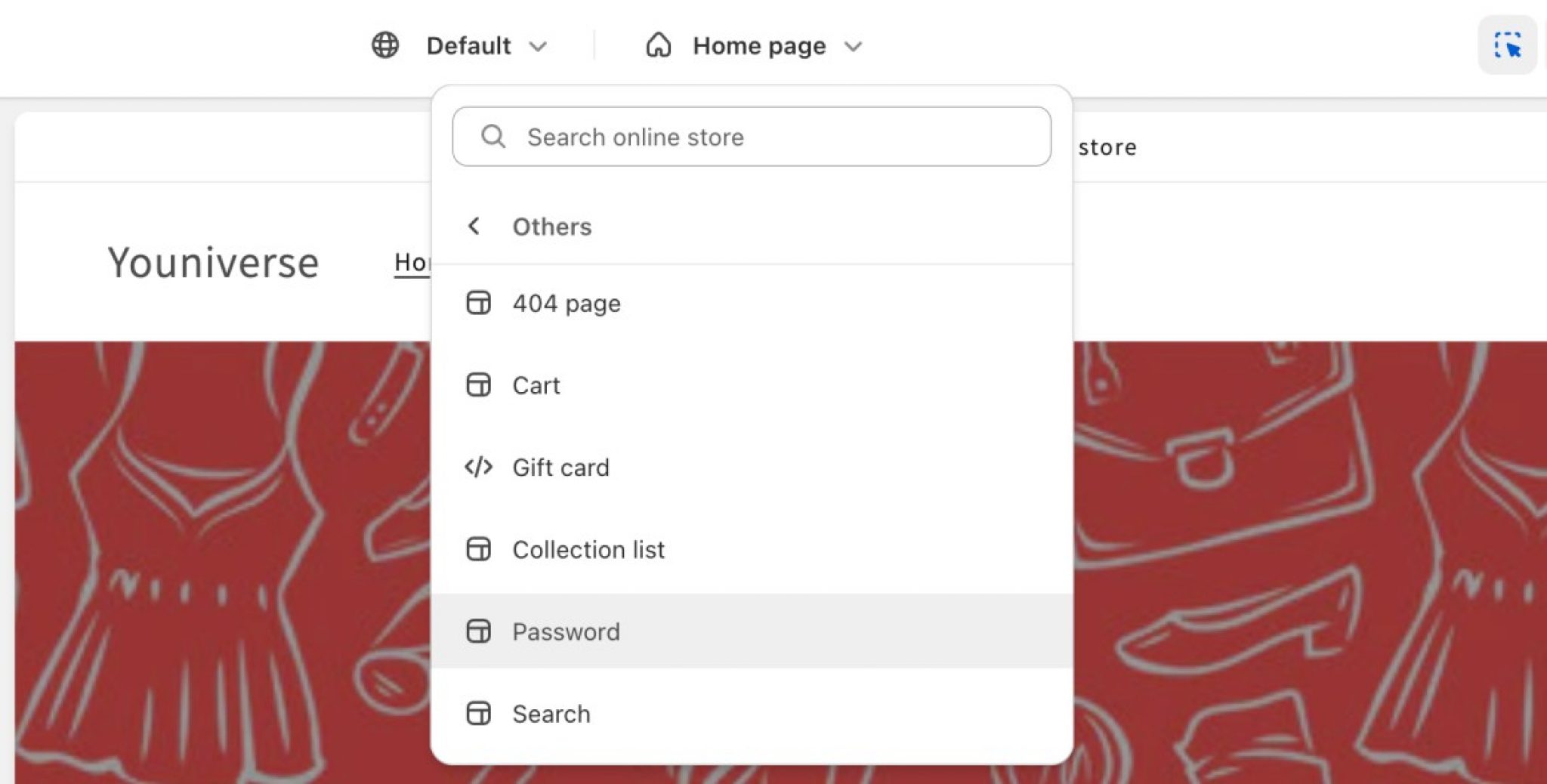 Since you're using the 2.0 version of the Shopify store theme – Dawn, you can now adjust its header, footer, and all the body contents according to your Coming Soon page preferences discussed in this article.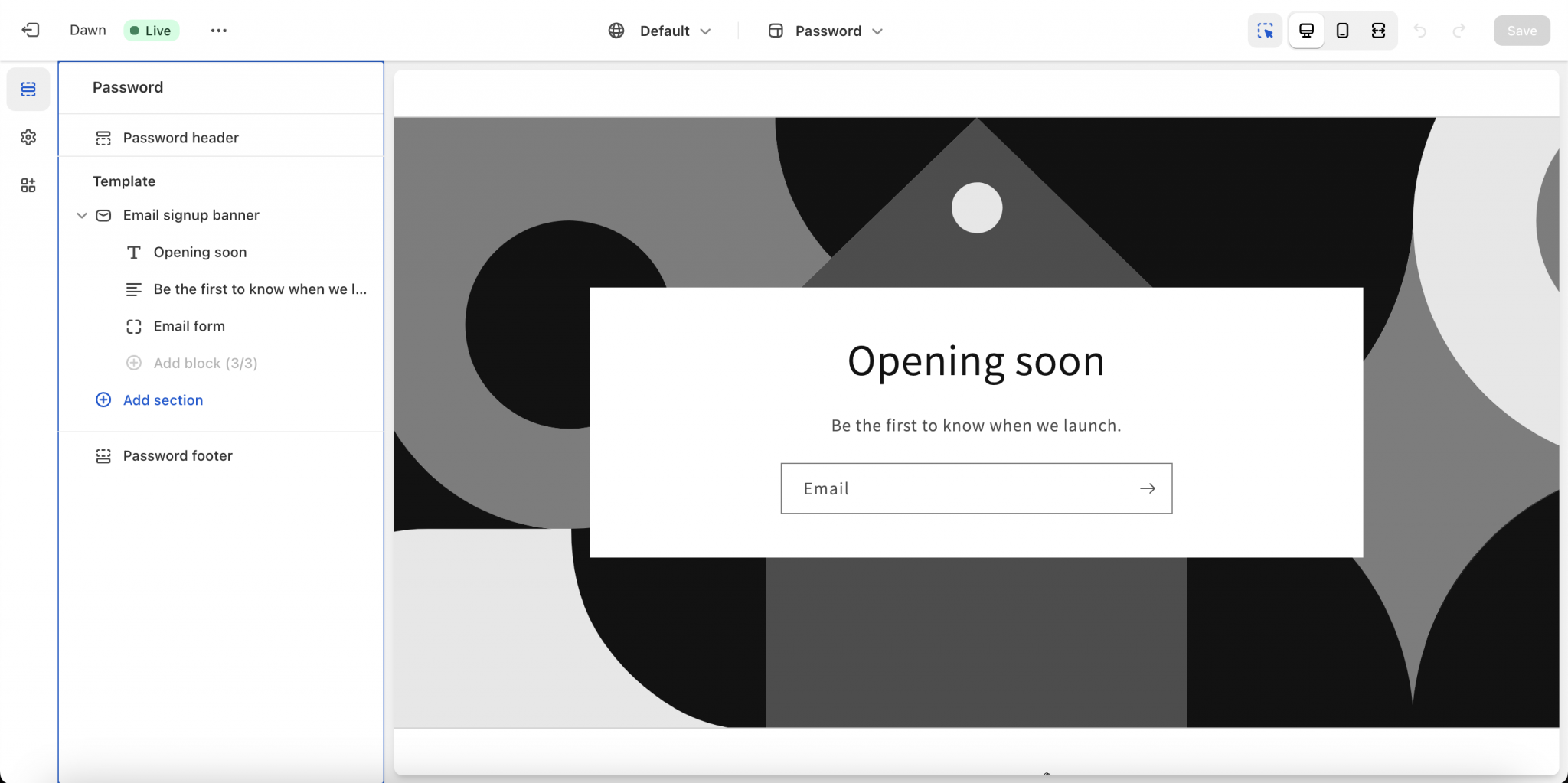 Now that we've entered the password page editor, you can choose blocks such as product collections, blog posts, email signups, and many more.
You can use the header section of your password page to edit your logo and drop-down menu, while the body section provides the ability to customize your paragraphs, texts, and fonts to appeal to your upcoming brand.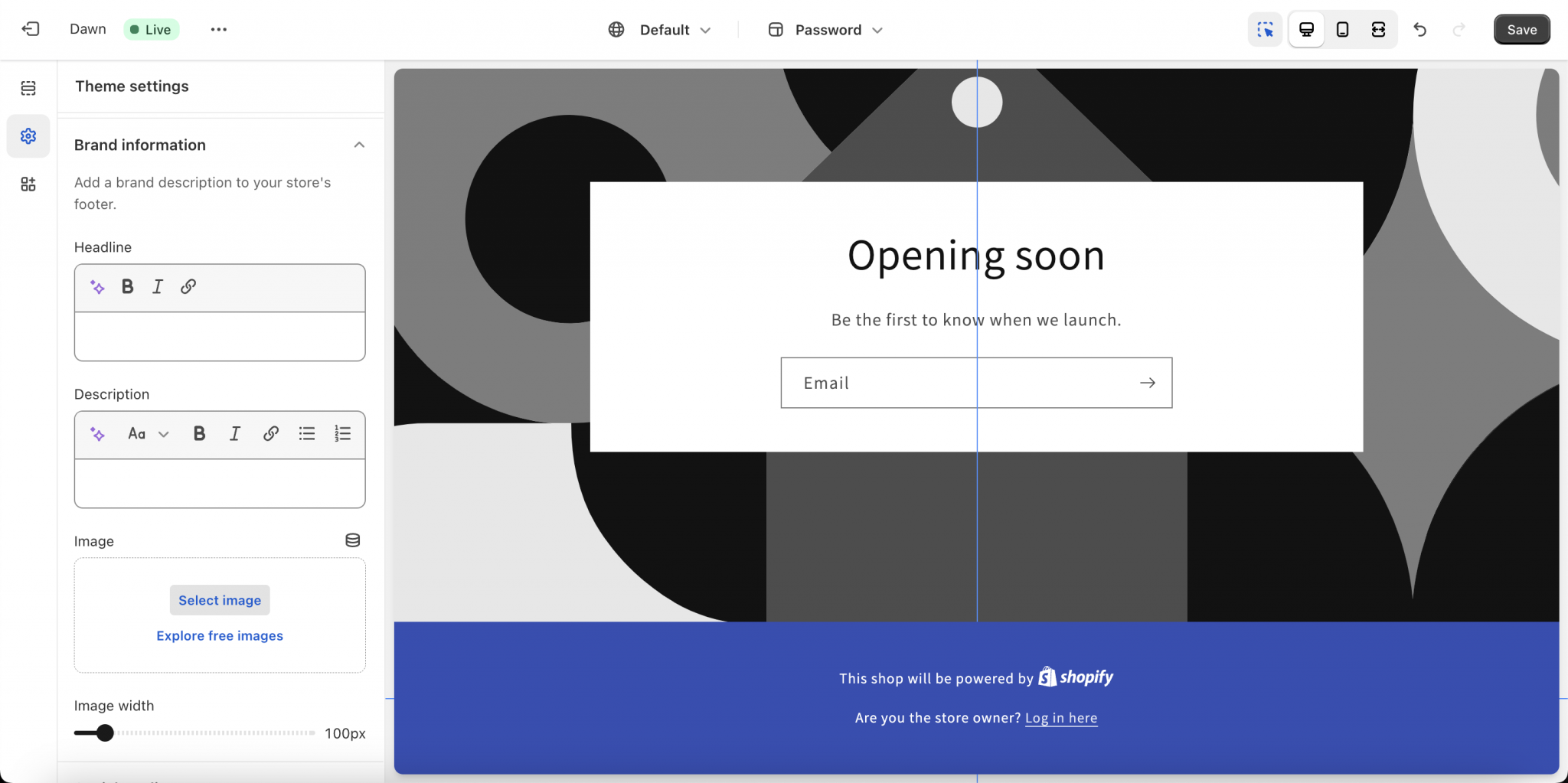 In the footer section, you can edit your store's background image and social icons to let your customers stay connected to your store on social media.
Option 2 – Use the Shopify Theme to Create a Coming Soon Page
Using a Shopify theme to create a Coming Soon page is generally the best option for store owners who want a fully customized landing page.
To use this option, you have to duplicate your current Shopify theme so you can customize your own theme for a homepage and convert it into a desirable Coming Soon Shopify page.
Doing this will get you many benefits:
✓ You can add more content and features to your landing page.
✓ You can stand out from your competitors by having the ability to add esoteric features that are unique to your brand.
✓ You can renovate your main Shopify store while keeping the newly built Coming Soon page at the front.
Creating a different version of your store is easy if you follow the steps below:
Head back to your Shopify admin dashboard, and select Online Store from the left side menu. Click on themes and navigate to your current Shopify theme.

Click on the three dots beside the customize button and select Duplicate from the drop-down menu. Doing this will create a duplicate theme in your theme library for your now available-to-customize Shopify Coming Soon page.
You can now head to your new theme in the theme library. Click the three dots from which you can select Publish to make it your current Shopify theme.

After publishing your duplicate theme, you can edit and design your Coming Soon page in your theme editor.
There is no limit to creating numerous coming soon pages through this method, but we suggest you keep it clean and simple.
You can choose to make your limited Coming Soon site just one page or a few. But don't forget to keep it simple enough that they take your desired action.
Option 3 – Build your Shopify Coming Soon Page With Valar Digital
Building a Shopify coming soon page is pretty straightforward until you have special requirements – That's where we come in!
Coming Soon pages are not just a matter of tweaks and twists. They can be a powerful tool to reach the right audience your brand needs before launching your store.
To create this ultimate conversion pathway, you need to understand your brand niche thoroughly and create your landing page.
If you don't have time or simply looking for someone to create uniquely professional Coming Soon pages, ValarDigital is here for you!
Through our timely tested techniques, we'll create Coming Soon pages with high conversion possibilities to start building your audience ahead of your launch.
For more details, get in touch today!
Conclusion
Creating excitement before the store launch is essential for your post-launch and product sales, whether you're launching a new product, a new website, or an overall new customer experience.
Creating a Coming Soon page on Shopify will help you maintain the anticipation and excitement of your new store and ultimately help build your audience before launch.
Doing this will help you build your customer base with significant referral possibilities and a sure journey toward higher conversions.