Contents
Intro
Shopify Analytics VS Google Analytics – Features Comparison

Shopify Analytics – Features

REPORTS

Acquisition
Behaviour
Finance
Customers
Profit Margins
Marketing
Orders

LIVE VIEW

visitors right now
Today's Totals
Customer Behaviour
Top Locations
Top Products

Google Analytics – Features

CLV
Unique Sessions
In-Depth Real-Time Reporting
Best Marketing Tools Integration
eCommerce Events
Enhanced eCommerce Tracking

Which Platform Should You Use

Use Shopify Analytics
Use Google Analytics
Best Of Both Platforms

Conclusion
If you're in a peak traction phase of your Shopify store and haven't decided whether or not to use Google Analytics along with Shopify Analytics, You may be making a big mistake and stunting your Shopify Store Sales.
Honestly, comparing Shopify Analytics and Google Analytics is like choosing between two different flavours of M&M since they both provide unique features for data reporting. However, one of them can be defined as incomprehensive regarding meaningful insights.
As Shopify Analytics is a merit of growth and Google Analytics, a beacon of success, Which platform is it? Let's find out!
Shopify Analytics Features: As Compared to GA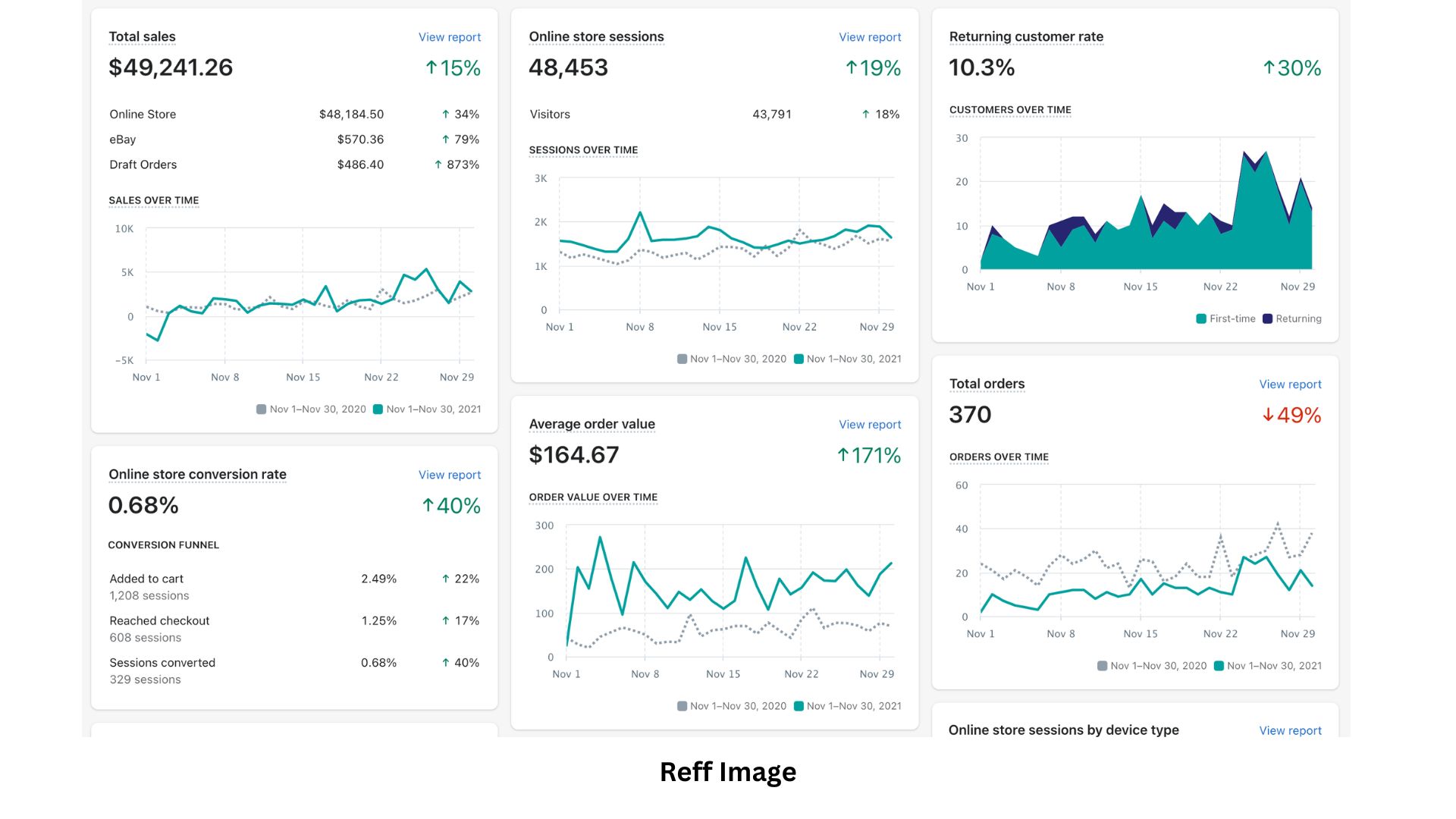 Since the Analytics reporting is an in-built integration with Shopify and Shopify Plus, you can track your progress automatically without any configuration setting.
You can access Shopify Analytics metrics by simply opening your Shopify admin dashboard and selecting Analytics from the left side menu of your screen.
Under the Analytics menu, you'll find a subsection containing:
Reports
Live View
REPORTS
You'll find an in-depth view of your sales and user behaviour information in the Reports menu. Some essential features such as Acquisition, Behaviour, Finance, Orders, Customers, Profit margins and marketing can also be found in this section.
Acquisition
In the acquisition section of reports, you'll find comprehensive information about your Shopify store visitors. Data such as: where your Shopify store visitors are located, how they are finding your store (Organic search, Promotions, Linking, etc.), and the total number of month-to-month visitors can be found in the acquisition reports.
Behaviour
Customer behaviour is the most essential part of sales since it determines your customers' needs by analyzing their search patterns, such as conversion based on product recommendations, shopping cart trends, searches without data, and many more.
Finance
The finance section provides straightforward yet in-depth information about your finances with the ability to search through specific periods. You can also carry out data such as delivery tax, product discounts, tip calculations, payment methods, etc.
Customers
Customers are the primary key towards your Shopify store's success. In the customers' section in reports, you can compare sales volumes through filters such as first-time customers, repeated/regular customers, loyal customers, at-risk customers, etc.
Profit Margins
The profit margin factor in the Shopify Analytics reports section determines the total product revenue and data revisions based on the product's Stock Keeping Unit (SKU), product name, etc.
Marketing
The marketing feature in the reports section allows you to ensure your marketing campaigns are carried out successfully through in-depth conversion analysis, first and last conversion interaction analysis and determine how much your marketing campaigns produce profits.
Orders
The sales report validates your overall product sales on your Shopify store and how they're defined by various factors such as Sales Channels, Product variants, Product Vendors, Traffic referrers, etc.
Shopify also helps provide custom reports that include traffic referrers, cart abandonment and the ratio of customers using a smartphone and a desktop machine to ensure the conversion sources.
LIVE VIEW
The Live View is a second essential part of Shopify Analytics, providing access to your customers' current activity. The data in this section is represented in the form of a globe and has real-time information about the visitors of your Shopify store, including metrics such as:
✓ Visitors right now determine an overview of the total number of current Shopify store visitors in five minutes.
✓ The Totals section determines the total number of visitors and orders your store receives to conclude with the total sales volume.
✓ Customer Behaviour verifies the total number of visitors who've added products to their shopping cart (Active Carts), the number of visitors who've started (Checking out), and completed (Purchased) their checkout.
✓ Top Locations display the number of users who interacted with your Shopify store more than one time in a day. This feature is more like heat maps for your website.
✓ Top Products are just like the top locations section, but instead of finding the popular locations where your store is being visited, it'll show you the most popular products determined by the times they're added to your cart or purchased from your store.
Google Analytics Features: As Compared to Shopify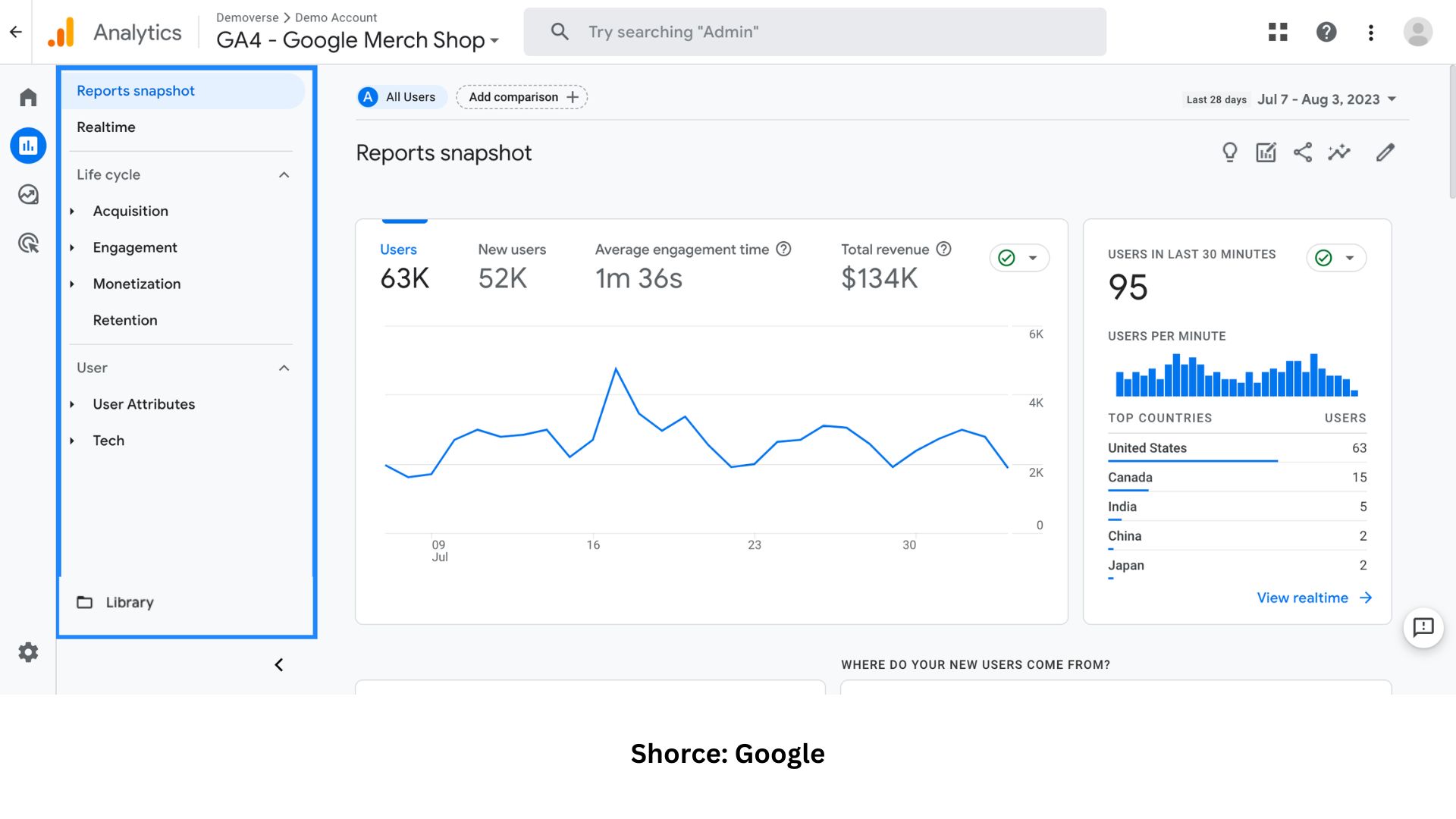 Shopify analytics help a lot in providing a comprehensive overview of the standard data. But that's not all when it comes to the other metrics; that's where Google Analytics comes in.
Google Analytics is not only a platform where you'll find the most accurate information about your store due to its nearly three-quarter market share, but it also provides comprehensive features that help you grow in the overall market.
Although complicated, businesses with high market study purposes and constructive conversion optimization recommend using Google Analytics for stores.
After setting up Google Analytics 4 with your Shopify store, here are some of the most advanced features you can use that are not available on Shopify:
Know Your Lifetime Value
Customer Lifetime Value (CLV) is the most crucial metric provided by Google Analytics that defines the actual monetary value of your customers accessing your Shopify store through a different channel.
Customer Lifetime Value (CLV) also defines the average spending of a customer throughout a particular time frame from different traffic such as Organic Search, Direct, Referral, Social, and Paid Search.
You can access your CLV reports by heading to your Google Analytics 4 and navigating towards Reports > Audience > Lifetime Value.
Total Sessions VS Unique Sessions
While Shopify Analytics provides a feature to track your store's total pageviews, Google Analytics allows a more in-depth data representation by distinguishing between regular and unique pageviews.
A pageview is recorded when a user clicks through a page on your Shopify store (multiple visit records are included). For example:
Suppose a user lands on a home page, bounces on the contact page, and returns. The events are recorded as three pageviews instead of two.
Purpose? More Data!
You can gain precise information by tracking unique pageviews to conclude the value. If you find a significant discrepancy between total and unique pageviews, users must be facing issues finding what they need.
In-Depth Real-Time Reporting
The Real-time Reporting in Shopify Analytics provides four key metrics:
✓ Visitors
✓ Daily totals
✓ Pageviews
✓ Cart Behaviour
However, these four key metrics are expanded and taken further by giving you more in-depth real-time reporting information:
✓ Number of visitors to your Shopify store.
✓ Current visitors' location.
✓ Keywords governing your current organic visitors.
✓ Specific page views with active user percentage on every page.
✓ Real-time conversions.
✓ Desktop vs. mobile users through any particular time.
✓ Direct vs. organic users through any particular time.
✓ Number of Goals fulfilled through any particular time.
Bonus: While Shopify Analytics update its data every 5-10 minute to represent real-time reports, Google Analytics updates the data within seconds.
While using Google Analytics all by itself is more comprehensive than using Shopify Analytics, you may be missing out on one of the most significant advantages of this platform.
Using Google Analytics in conjunction with its other marketing tools can bring you the best out of this platform:
Google Search Console can be used in conjunction with GA4 to keep track of crawling or indexing issues causing visitors while navigating your Shopify store.
Google Ads can be a massive advantage in Google Analytics for running and monitoring custom advertising campaigns and pulling traffic for overall CRO.
Google Optimize can run all the A/B tests needed to improve customer experience after confirming store variations. Although Google Optimize will be sunset by Sep 30, you can find the best A/B testing tools for your Shopify store and get those conversions seamlessly.
Third-party integrations are also provided by Google Analytics for keyword research, CRO, email marketing, social media management, and much more.
Set eCommerce Events
One of the many features mentioned in this article provided by Google Analytics is the ability to set and track customizable events. Events are the most essential part of CRO; you can find them in Admin > Reports > Next > Engagement > Events.
You can create new events in Google Analytics since you no longer have to set goals on a limited conversion basis. However, now that GA4 can record four collected mobile app events as conversions, GA4 allows you to add around 30 custom events to your web and app conversions.
Enhanced eCommerce Tracking
You might be missing out on great insights if you're not using the Enhanced eCommerce tracking feature on Google Analytics 4. This advanced toolset doesn't compete with Shopify with all the following features offered:
✓ Detailed information about the customers' whole journey before and after the purchase.
✓ In-depth cart abandonment and bounce rate information.
✓ Comprehensive product performance data, including a curated list of top-performing products.
✓ Discounts and promotions – A detailed overlook for future initiatives.
You can turn on this ultimate tracking feature by heading to your online store > preferences.
Under Google Analytics, check the box beside Use Enhanced E-commerce, and that's it.
Note: If you're using an old version of Google Analytics, you need to update the platform to make the feature available.
Which Platform Should You Use?
Shopify Analytics provides an easy-to-use interface explicitly made for Shopify users, and these essential metrics are available within the Shopify dashboard for business.
The simplicity of Shopify Analytics, along with all the features, including sales, orders, and customer demographics, can sum up to be a perfect starting point for people who've just started their business or want a straightforward approach to their sales data.
On the other side, Google Analytics provides a more comprehensive set of features ideal for businesses looking for quantifiable data metrics to break it down and optimize the store to its full capabilities.
The data analyzed in Google Analytics is not only used to optimize Shopify but also other marketing platforms. GA4's robust data tracking capabilities, along with seamless integration and advanced segmentation, are a win-win for your business without a doubt.
When deciding which platform you should use (After considering the above), it's commonly divided into two factors regarding the Key Performance Indicators (KPIs) of your business:
Use Shopify Analytics
✓ If you want to track data regarding customers, such as products, inventory and sales analysis.
✓ If you want a snapshot of your day-to-day activities regarding broad sales and interactions.
Use Google Analytics
✓ If you want to track metrics regarding your Shopify store content, customer behaviour, customer journey, marketing analysis and comprehensive Conversion Rate Optimization (CRO).
✓ If you want to consolidate all your marketing knowledge to quantify all the sales and store traffic data for a long-lasting Shopify store success.
Best of Both Platforms
While Shopify Analytics have its own advantages, Google Analytics has next-level data population and visualization techniques. However, using both platforms simultaneously will help you obtain a holistic view of your Shopify store performance. Here's why:
Data Loss
If you only use Shopify analytics and later on decide to migrate to another eCommerce platform, you not only have to start from scratch, but you'll also lose all of your Shopify store data when you delete the account. You can read more of this topic on three things to know before Shopify migration.
Platform Limitations
Suppose you're using a basic Shopify plan; you're limited to using basic Shopify Analytics reports unless you pay an extra $79 for Standard Shopify reports. Whereas only Shopify Plus users have access to more in-depth eCommerce reports.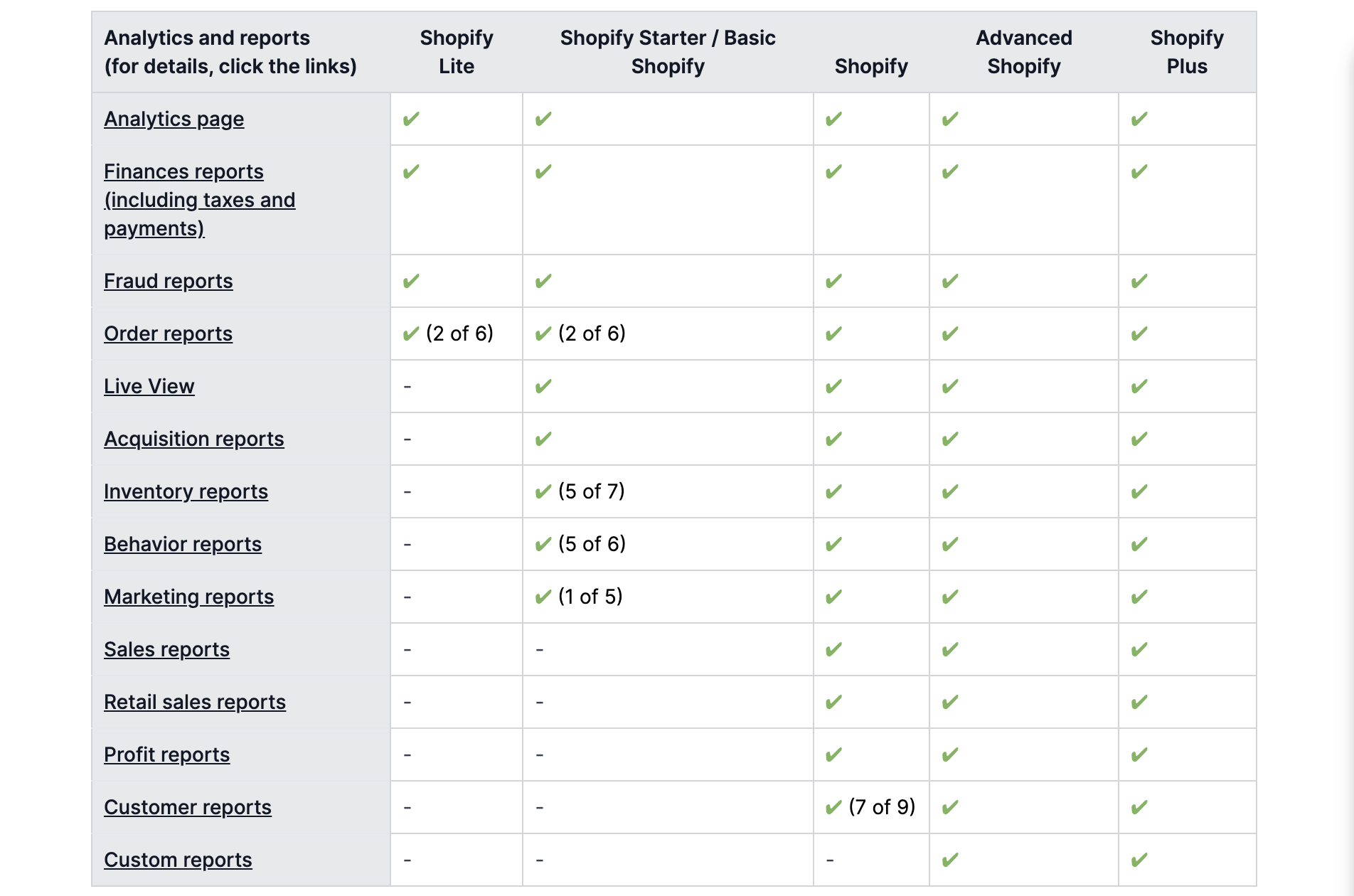 Must Read: How much do Shopify plans cost in 2023?
On the other side, using Google Analytics along with Shopify can save valuable data and provide more comprehensive reports for FREE!
Cross-domain Tracking Not Available
If you're using Google Analytics, you no longer have to limit yourself from comparing data between two related Shopify domains. Since Shopify doesn't allow native domain support, it is possible through third-party tool integrations in GA4.
Conclusion
Considering all the above reasons, there's no doubt that using Google Analytics and Shopify Reports simultaneously is a good idea. As a cherry on top, Shopify has made the Google Analytics 4 integration easier than ever!
You can create your entire Shopify ecosystem by integrating Google Analytics into your Shopify store. Utilizing Shopify Analytics for a quick data assessment and using Google Analytics for a broader study of data metrics is a way to achieve success in eCommerce.
We hope you find all the needed information on Shopify Analytics vs. Google Analytics, and you can stay tuned for more Shopify-related content!